Smart Videohub 20x20 BLACKMAGIC - Matrix switcher for SD, HD and Ultra HD formats with integrated video monitoring and control dial.
Smart Videohub 20 x 20 is a larger advanced Ultra HD mixed format router with built in control panel and monitoring. Ideal for larger workgroups and mobile broadcasting, it includes advanced 6G-SDI connections so you can simultaneously connect and route any combination of SD, HD and Ultra HD video all on the same router at the same time. You also get revolutionary new visual routing with the unique spin knob control, push button panel and the built in LCD screen. Also includes Ethernet for remote control and a fully customizable software development kit for Mac and Windows.
SDI Video Input: 20 x 10 bits SD-SDI, HD-SDI et 6G-SDI.
SDI video output : 20 x 10 bits SD-SDI, HD-SDI et 6G-SDI.
Reference input : Blackburst and TriSync for SD, HD and 4K .
Supports multi rate: Automatic detection of SD, HD or 6G -SDI formats. Simultaneous routing of video formats 4K , HD, SD and DVB -ASI .
Updates : Optional Interface via USB 2.0 high speed ( 480Mb / s) or via Ethernet.
Router control : 21 buttons for local control of Videohub and dial and 6 buttons to control the display of the LCD screen or RJ45 Ethernet .
Router Configuration : Via front panel LCD or using the RJ45 Ethernet or USB 2.0 interface for setting the IP address only.
Control RS-422 router: 1 x input for management control switch connection points.
Resynchronization : On all SDI outputs , auto switching between standard definition , high definition video or 6G -SDI .

Supports SD : 625/25 PAL, 525/29.97 NTSC and 525/23.98 NTSC .
Supports HD format : 720p50 , 720p59.94 , 720p60 , 1080i50 , 1080i59.94 , 1080i60 , 1080PsF23.98 , 1080PsF24 , 1080PsF25 , 1080PsF29.97 , 1080PsF30 , 1080p23.98 , 1080p24 , 1080p25 , 1080p29.97 , 1080p30 , 1080p50 , 1080p59.94 , 1080p60 .
Supports 2K : 2048x1080p23.98 , 2048x1080p24 , 2048x1080p25 , 2048x1080PsF23.98 , 2048x1080PsF24 , 2048x1080PsF25 .
Supports 4K : 3840x2160p23.98 , 3840x2160p24 , 3840x2160p25 , 3840x2160p29.97 , 3840x2160p30 , 4096x2160p24 .
SDI Compliance : SMPTE 259M , SMPTE 292M , SMPTE 296M , SMPTE 310M , SMPTE 425M -A, SMPTE 425M -B , ITU -R BT.656 and ITU -R BT.601 .
Video bit rate SDI: SDI video inputs are switchable between standard definition , high definition and 4K . Switchable between standard definition SDI 270 Mb / s SDI , 1.5 Gb / s HD -SDI , 3G -SDI and SDI - 6G .
SDI Video Sampling : 4:2:2 and 4:4:4
SDI Audio Sampling: Television standard of 48kHz and 24 bits.
Color accuracy SDI: 4:2:2 and 4:4:4 10-bit .
SDI Color Space : YUV or RGB .
Automatic switching SDI: Automatic selection between SD-SDI formats , HD-SDI , SDI and DVB - 6G -ASI on each input so that each input can operate with a different size TV .
Supports SDI Metadata : Support auxiliary data as defined by the SMPTE 352M standard.

Control Software : Control software router provided free for Windows ™ and Mac OS X ™ .
Update firmware : Via the application update provided.

Views : LCD Integrated video settings menu and LCD .

Physical Installation : Format 1U , less than 6 inches deep

Protection in case of power failure : The connections to the router are saved and restored instantly reconnection .
Power Source: IEC power cable required . Input 90 - 240V .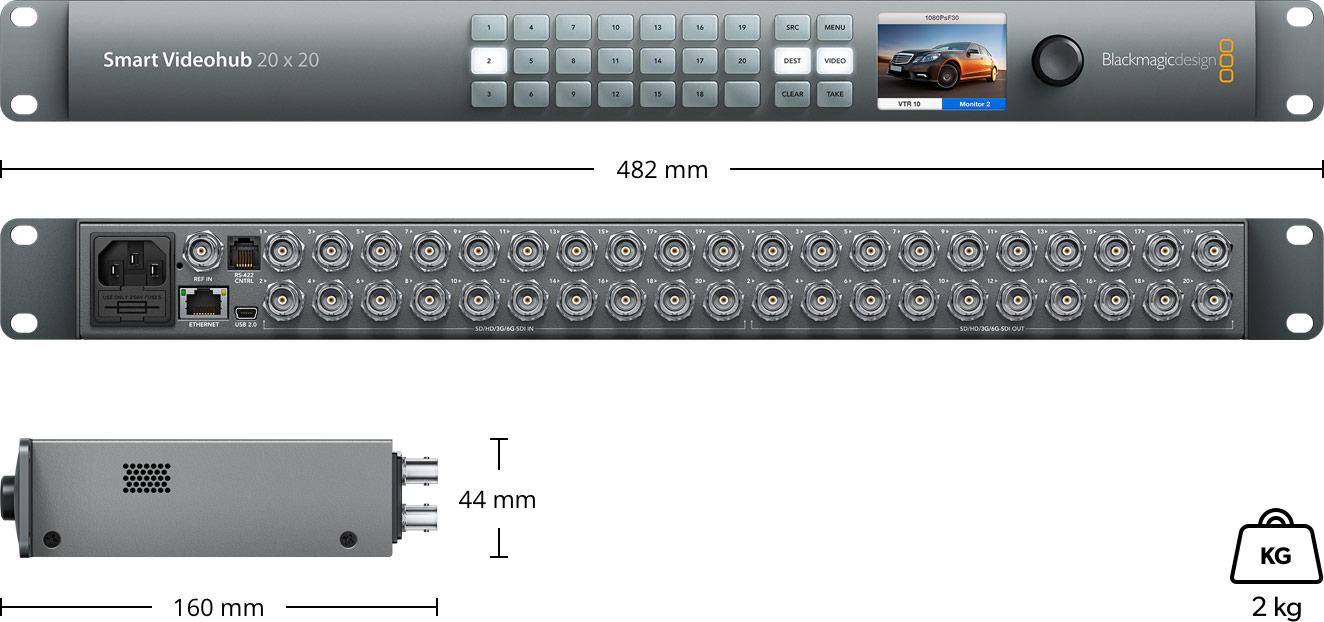 Operating temperature: 0 ° to 40 ° C (32 ° to 104 ° F)
Storage temperature: -20 ° to 45 ° C ( -4 ° to 113 ° F)
Relative humidity: 0 % to 90 % non-condensing

Smart Videohub 20 x 20
Software CD
Manufacturer Warranty limited to 12 months